Add a Splash of Color to Your Home or Office
Work with the preferred local painting contractor in the Marne, Allendale, MI & Grand Rapids Area
Brighten Your Home or Office With a Fresh Hue
Painters
Grand Rapids, MI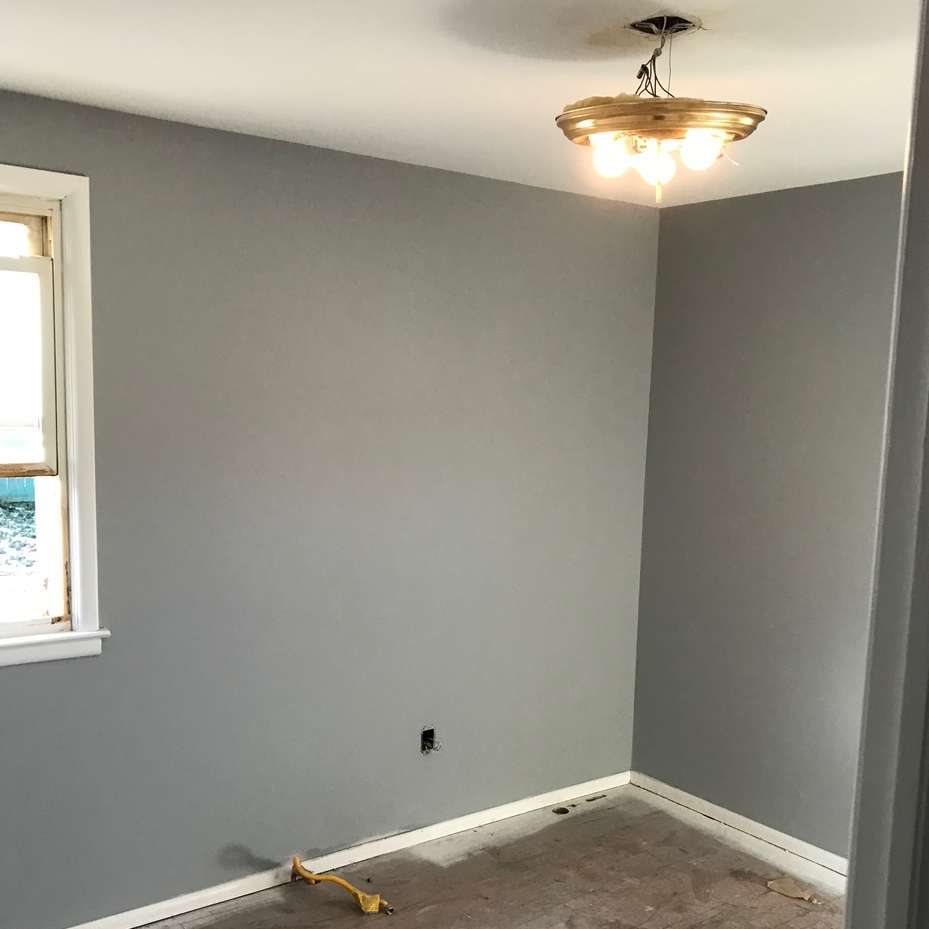 Interior Painting
Transform your home or office with a top-notch paint job. Our specialty is delivering clean, crisp lines that elevate any space. Our expert painting crew works efficiently to complete your project quickly, so you can get back to enjoying your revamped space. Plus, with our in-house designers, we'll help you find the perfect color to bring your vision to life. Don't settle for a lackluster interior – let us give it a fresh new look!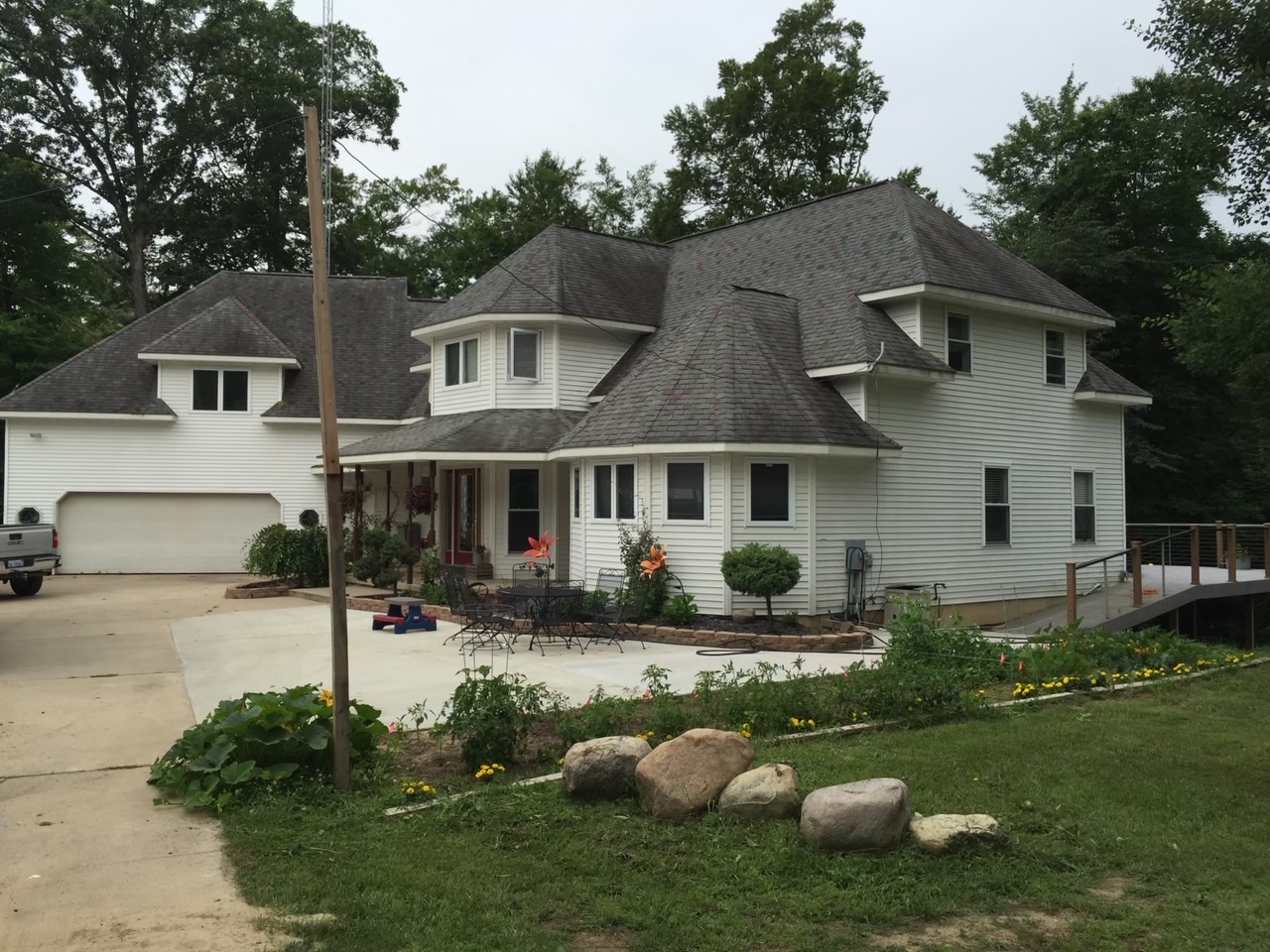 Residential Painting
Looking for a reliable exterior house painter, kitchen cabinetry updater, or deck refinisher? Trust Allendale Painting to get the job done right. Our team has completed thousands of residential painting projects in Grand Rapids, and we've got almost 30 years of experience and hundreds of five-star reviews to back us up. Choose Allendale Painting for your next project and see for yourself why we're the best in the business.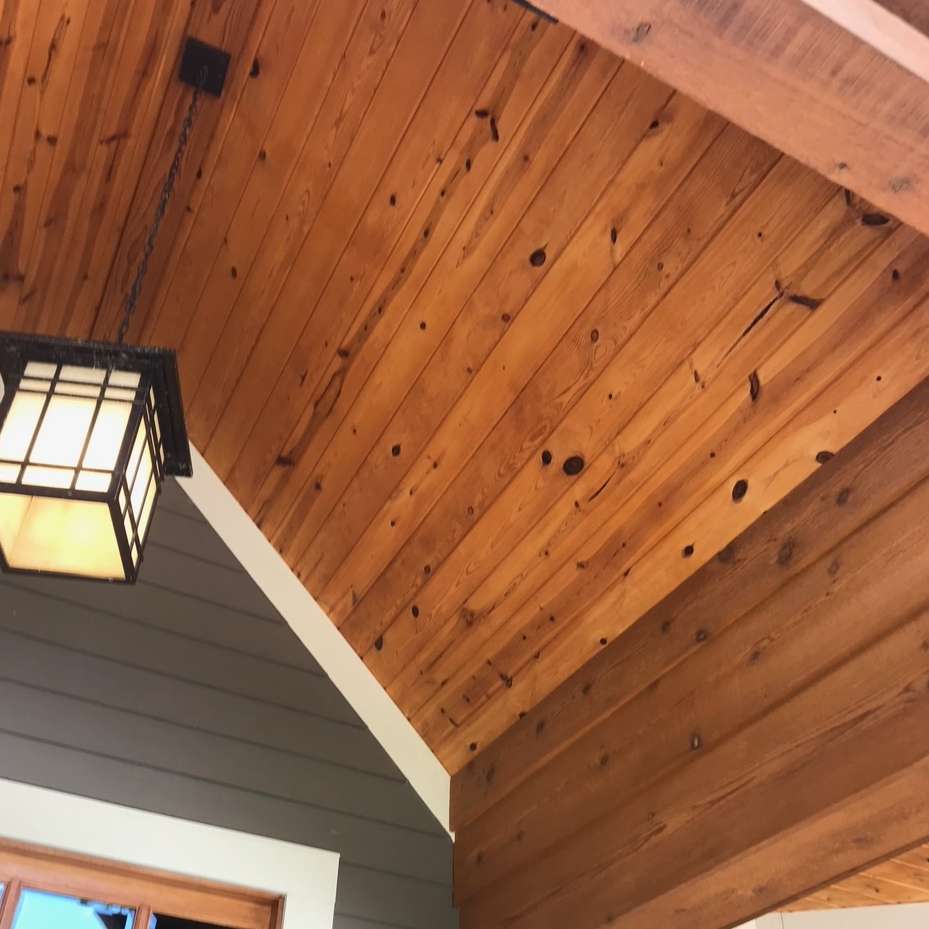 Exterior Painting
Exterior painting is still one of the best ways to increase the value of your home while giving it great curb appeal. We have done many thousands of homes in West Michigan. Let us use our experience and expertise, to help you take your project from start to finish. We specialize in cedar, aluminum, vinyl, masonry, and metal surfaces.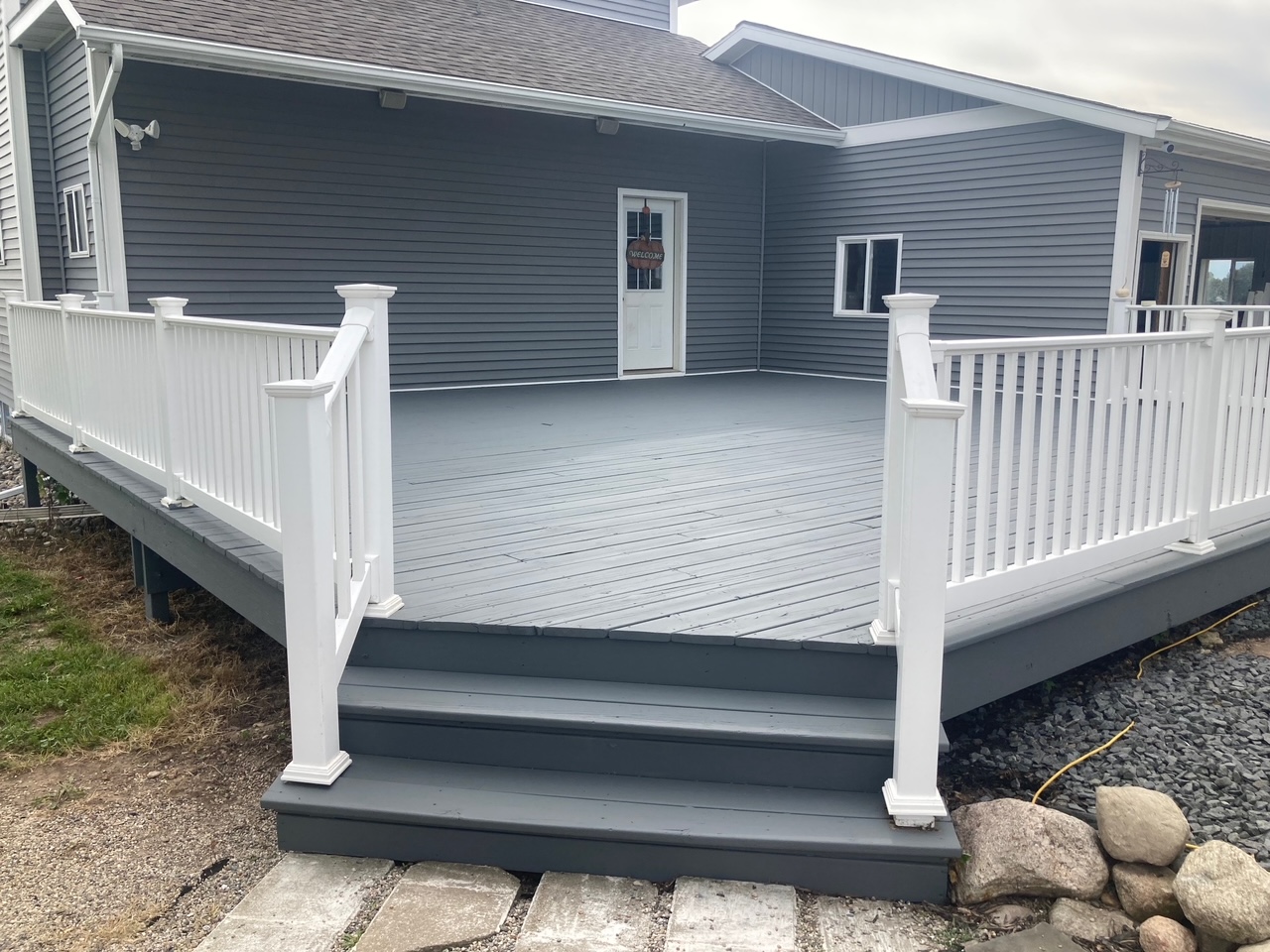 Deck Staining & Sealing
Protect your deck from brutal Michigan weather! Our decks come with a two-year warranty and our 3 Step restoration method includes mildew treatment and sanding. We even have stand up sanders for additional prep. Don't worry about rotted boards, our in-house carpentry service will replace them. Plus, we only use top-notch stains to seal your deck. Choose us for the best deck protection!
Commercial Painting
Trust your commercial painting jobs to the experts. Our skilled and experienced commercial painters will treat your unpainted surfaces with care, prepare painted surfaces for a beautiful and long-lasting finish, and always finish the job on time and within budget. Don't settle for anything less than professional commercial prep and painting – let us make your next project a success!
Hire a local painting contractor in the Marne, Allendale & Grand Rapids, MI Area
Searching for a local painting contractor? Look no further than Allendale Painting LLC. We provide commercial and residential interior painting services in the Grand Rapids area. Count on our team to coat your walls, cabinets, ceiling or trim with a fresh coat of paint. We also provide exterior painting services to cover your fence, patio, deck or shutters.
Call now to schedule your cabinetry painting, power washing, or commercial or residential interior painting services.
Cascade | Ada | Caledonia | Alto | East Grand Rapids | Byron Center | Hudsonville | Jenison | Zeeland | Spring Lake | Grand Haven | West Olive | Rockford | Walker | Comstock Park | Forest Hills | Jamestown | Lowell | Cannonsburg | Dorr | Allendale | Standale | Muskegon | Belding | Belmont | Cedar Springs | Gains Township | Cutlerville | Sparta | Marne | Nunica | Norton Shores | Saugatuck
Looking for top-notch painting services in West Michigan? Look no further than Allendale Painting! Our expert contractors provide residential and commercial painting services for both interior and exterior projects.
From small beginnings, we've grown into a full-service restoration business, serving hundreds of satisfied customers every year. We offer specialty projects like deck restoration, cabinet refinishing, and wall repair.
Our team is fully licensed, insured, and dedicated to using only the highest quality paints on professionally prepared surfaces to ensure a quality finish. We use the latest and most effective techniques, with a wide variety of paints including 100% acrylic latex, oil-based, and enamel to meet the particular demands of any job.
Visit our Services page to learn more about our offerings, and don't hesitate to schedule an estimate for a free, no-hassle quote. Choose Allendale Painting for your next painting project!
Don't Let Chipped Or Faded Paint Ruin Your Curb Appeal
The outside of your home or office is the first thing people see when passing your property. Make an amazing first impression when you hire our team for exterior painting services. We'll coat your exterior with a fresh coat of paint that makes your property stand out for all the right reasons.
In 1996, we began as a small team painting homes in Grand Rapids. Now, we're a full-service restoration business with multiple crews and countless happy customers. Our 5-star ratings on Facebook, and Google prove that we've maintained our quality, integrity, and positivity. Choose Allendale Painting for your next painting project and here's why:
Experience the satisfaction of walking through your property after we finish our job. Our work leaves your home feeling brand new, just ask our hundreds of satisfied clients. We don't just aim to meet your expectations, we strive to exceed them. We're so confident in our ability that we don't require payment until the job is done and you're completely happy. Our attention to detail is second to none, leaving your neighbors talking about the exceptional quality of your home.
At Allendale Painting, we've got a team of friendly and skilled local painters who take pride in their work. When we start your project, you'll be impressed by their professionalism, kindness, and willingness to help. Nowadays, it's rare to find a company that offers top-notch service, honesty, and approachability, but that's what we strive for at Allendale Paining. Don't settle for less – choose us for your painting needs!
Experience the utmost professionalism from start to finish with our painting services. Our owners will survey your property and provide honest feedback based on our 17 years of expertise and your unique needs. Accepting quotes is easy with our client-friendly process. When we start your project, we guarantee to be punctual and finish ahead of schedule. Choose us for a seamless and stress-free painting experience.
Choose Allendale Painting for your painting needs – we're fully licensed and insured! Our team only uses the highest quality paints on expertly prepared surfaces, ensuring a long-lasting finish that will look great for years to come. Before we even start painting, we'll make sure to safely move and protect all of your property. And when we're done, your home will look like we were never there – except for the stunning new paint job, of course!
We have expertise in painting, deck restoration, cabinet refinishing, and wall repair. Our outstanding service keeps customers coming back for more. We use the latest and most effective techniques for each job. Need help picking colors? Our expert designer can assist you. We are committed to being the most professional, knowledgeable, safe, pleasant, and high-quality painting company in Grand Rapids. Choose us for all your painting needs!
WHAT YOUR NEIGHBORS SAY ABOUT US
Matt B.
I bought a new house that needed painting done quickly. Jon provided a fast estimate and Nathan kept me updated throughout the entire job. The work was excellent and the customer care was very professional.
Sara C.
I've used Allendale Brothers for painting my home's interior five times. Their work was professional and as promised. Their teams are tidy and aim to ensure customer satisfaction. I highly recommend this company for any painting needs.
Eli Z.
Allendale Painting Team painted our house amazingly. They were all very professional. Quoting, prep work, painting, and clean up were all better than we expected. We highly recommend Allendale Painting for any painting work you need.
Update Your Property With a Fresh Coat of Paint
Offering commercial and residential interior painting services
What makes our team special?

When you hire our local painting contractors, you'll feel confident knowing that we:
Will treat your property like our own
Have over 17 years of experience
Use high-quality paint from Sherwin-Williams
Provide superior services at an affordable rate
We offer free estimates on all services and special discounts for first responders and military personnel.
Plan your service in the Grand Rapids area now.
Our Service Area
Marne, Allendale, MI & Grand Rapids Area
(616) 304-5619
Mon 9:00 am – 5:00 pm
Tue 9:00 am – 5:00 pm
Wed 9:00 am – 5:00 pm
Thu 9:00 am – 5:00 pm
Fri 9:00 am – 5:00 pm
Sat 9:00 am – 5:00 pm
Sun Closed
Keep Your Home Fresh & Clean
Boost Your Homes Curb Appeal
"Dan was exceptional and went above and beyond. I hired Dan to repaint my entire main floor, common area, and master bath of my house. Dan had a huge job on his hands. After 4 days of a lot of work, I am in love with the outcome. Dan's work was meticulous. I wish I would have found him sooner. His pricing is fair and his work is top notch. I will absolutely hire him for future projects and highly recommend his company."  See All Reviews